Alfred R. Mitchell (1888-1972)
One of San Diego's most important artists, Alfred Mitchell prospected for gold and drove a stage coach in Nevada before coming to San Diego in 1909. He first studied under Maurice Braun before heading east to the Pennsylvania Academy of Fine Art. After his academic training and a tour of Europe on scholarship he returned to San Diego in 1920 and stayed here for the rest of his life. The "Dean of San Diego Artists", Mitchell was the co-founder of the La Jolla Art Association and an influential teacher in addition to his acclaim as a painter. For more information on Mitchell: Memories of Alfred R. Mitchell by Mary Mitchell Sadler.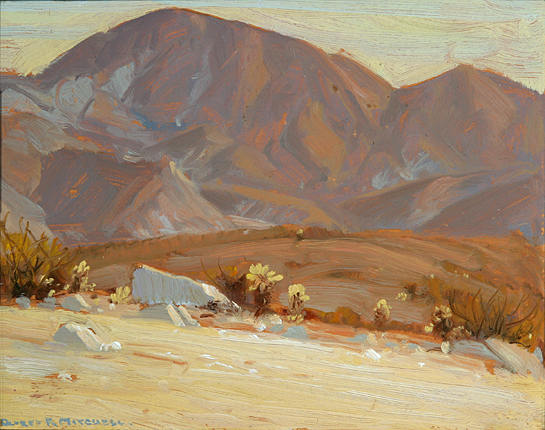 BORREGO DESERT
Oil on board, 8 x 10"
Signed lower left: Alfred R. Mitchell -
Inscribed verso: Borrego Desert / Alfred R. Mitchell